Islamic State militants in Libya claim to have committed a mass beheading of Coptic Christian hostages, according to a video posted on the group's networks.
The video, released late Sunday night, shows several men in orange jumpsuits being led along a beach, each accompanied by a masked militant. The men are made to kneel and one militant addresses the camera in English before the men are simultaneously beheaded.
The makers of the video identify themselves as the Tripoli Province of the Islamic State group — the Islamic militant group that controls about a third of Syria and Iraq. Militants in Libya claiming affiliation with the Islamic State group had been holding 21 Egyptian Coptic Christians hostage for weeks.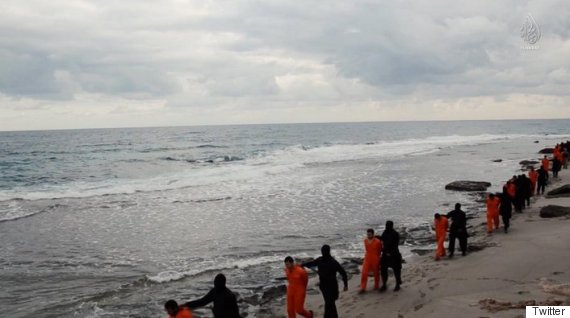 A still from the graphic video released by the Libyan group
The graphic video, which lasts five minutes, is captioned: "The people of the cross, followers of the hostile Egyptian church."
Different jihadist factions are currently battling for control in different regions of Libya. Widespread militia violence has plunged Libya into chaos less than four years after a NATO-backed uprising toppled and killed longtime dictator Moammar Gaddafi.
Earlier on Sunday it was reported that gunmen from a different, al-Qaida inspired, militia have taken over radio and television stations in the central Libyan city of Sirte.
A security official said the seizure of the buildings happened on Thursday after militants from Ansar al-Sharia had warned the station to stop broadcasting music. Another resident said that the radio station had begun playing religious songs and lessons.
The group, considered a terrorist organization by the United States, is accused of being involved in a deadly 2012 attack on a US mission and annex in Benghazi. Its branch in the city of Derna has pledged allegiance to the Islamic State group.
On Saturday, a bomb hit a pipeline leading to the country's largest oil field, al-Sarir, disrupting the flow of oil to ships at a coastal terminal, oil officials said.
The country's post-Gaddafi transition has collapsed, with two rival governments and parliaments — each backed by different militias — ruling in the country's eastern and western regions. The elected parliament was never allowed to properly convene due to a takeover of the capital, Tripoli, by Islamic and tribal militias. That parliament has been forced to function in the eastern city of Tobruk, while the pre-election parliament has declared itself legitimate and remains in Tripoli.