Cosmetic procedures are of increasing interest to millennial men, a new industry report found.
Thirty one percent of men said they were extremely likely to consider a cosmetic procedure, either surgical or noninvasive, according to a survey conducted by the American Academy of Facial Plastic and Reconstructive Surgery. Among that 31 percent, 58 percent were from 25 to 34 years old and 34 percent were aged 18 to 24 years. Both age ranges are members of the millennial generation.
The top reason cited by respondents pursuing cosmetic procedures to appear younger was wanting to feel better about themselves, followed by the desire to appear less tired or stressed, and then to please their partners. In the 25- to 34-year-old range, 42 percent cited wanting to remain competitive in their career as a reason to go under the knife.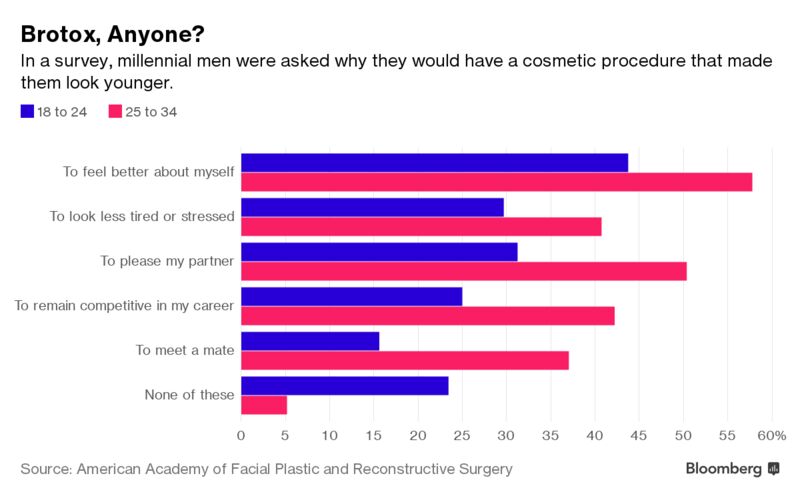 The most common procedures for men are rhinoplasty (nose jobs), otoplasty (pinning back the ears), and treatment for gynecomastia (a surgery that reduces male breast size), according to Clyde H. Ishii, a surgeon and president of the American Society for Aesthetic Plastic Surgery.
Part of the reason young men are increasingly interested in cosmetic procedures derives from social media, said Dr. Fred G. Fedok, president of the academy that conducted the survey. "People are more aware of their looks from different angles," he said. A growing interest in health and self-care also plays a part. "It's sort of like exercise," Fedok said about cosmetic procedures.  Read full report